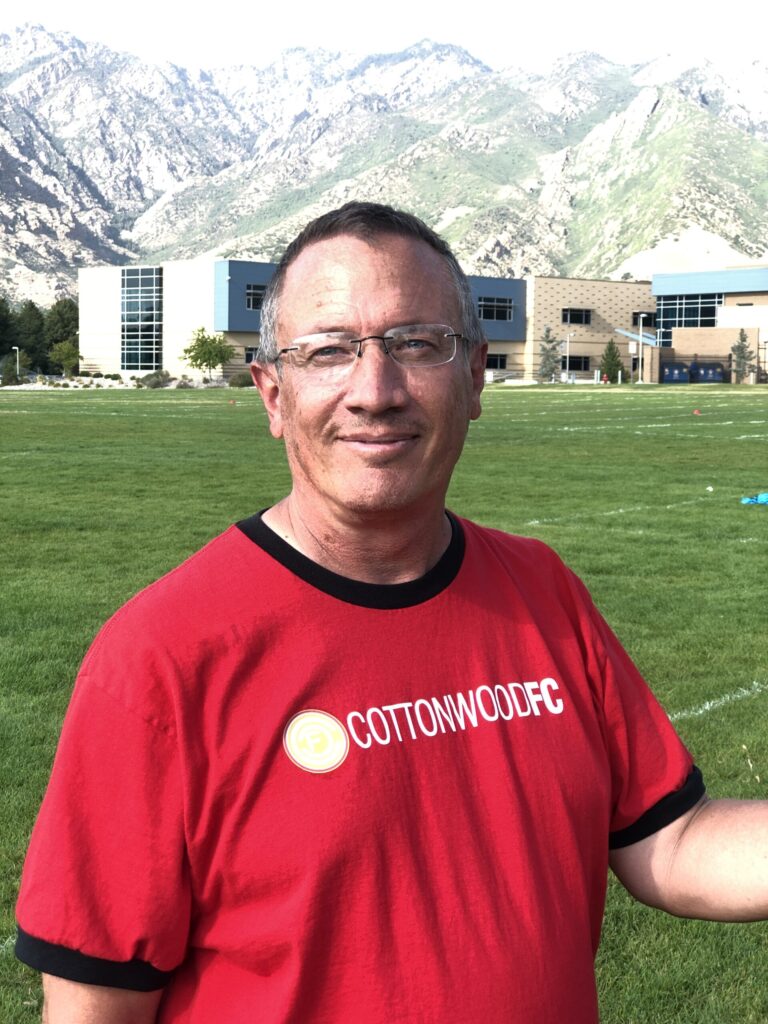 Today we feature Coach Mark Christiansen who carries a busy load as the head coach for our B06 White, B08 White and B09 Gold teams. We can't thank him enough for the time, dedication and passion he brings as a Coach. Here's more about Coach Mark:
Head Coach for the B06 White, B08 White, and B09 Gold.
Briefly introduce us and your family: The family consists of myself, Atyana Mason and her dad Blake. I helped raise Blake and have had the wonderful experience of being able to help raise Atyana also. We share the house with 3 cats and a tarantula. We hit an all-time proud soccer accomplishment this fall with Atyana being accepted to Real Salt Lake Academy High School for 9th grade, and playing for the girls Jr. Varsity team.
How did you get started with coaching? I got started with coaching soccer the 1st or 2nd week of indoor rec play for Atyana 7 years ago. We walked in and the coach said he would not be able to do it, and asked if anyone was interested. We spent 2 years in rec, and then I called Azar (CFC President) and we met up on the field. I brought 4 or 5 of the rec team players, and started our journey at CFC. I currently have my D license and, going into my 5th fall season with CFC, loving every minute of soccer.
What is your favorite thing about coaching? I have so many favorite things about coaching it's hard to pick 1 or 2. But I would have to say one of the biggest things is being able to coach watch and be part of the development of the player for soccer and for life,  giving each player the confidence that they can do whatever they set their minds to. Challenging them to be the best person they can be on and off the field. I strive to build a positive-positive experience for every player. I stress total team work in practice and play. All 3 teams I have are known as Team CFC. It is part of our cheer. I also love interacting with all the parents and making sure there is no lost communication between them, the players and myself. They are referred to as team members also.
Any personal soccer philosophies? As a coach you have to know the players and take time to know their interests and backgrounds. At the beginning of every season, I have the players fill out a questionnaire, I want to know what their experiences are, their challenges and especially their goals, to help them become the player they want to, and boost them to the next level of soccer play. If you don't know who and what you're dealing with, you can't relate. And building that coach and player bond is so important for the coach, but more so for the player.
When you aren't coaching soccer what do you do for a living? My living comes from a long career on the radio here is Salt Lake. Back as far, and even before 1992, I was one of the founders of X96, I have been with KBER, KZHT, and others.  2006 I built the format and put MY99.5 on the air. Most recently I was on the air at KSL until 2012 when I built my home studio and left corporate radio, and have been a voice over talent for companies, corporations and individuals projects all over the world. I also currently do internet marketing, and helping companies with reputation marketing, first page of Google web sites and lead generation. For that I specialize in local businesses.
Hobbies? Hobbies include music and computers. I have 4 online music stations that stream 24/7, and I am a self-taught computer geek.