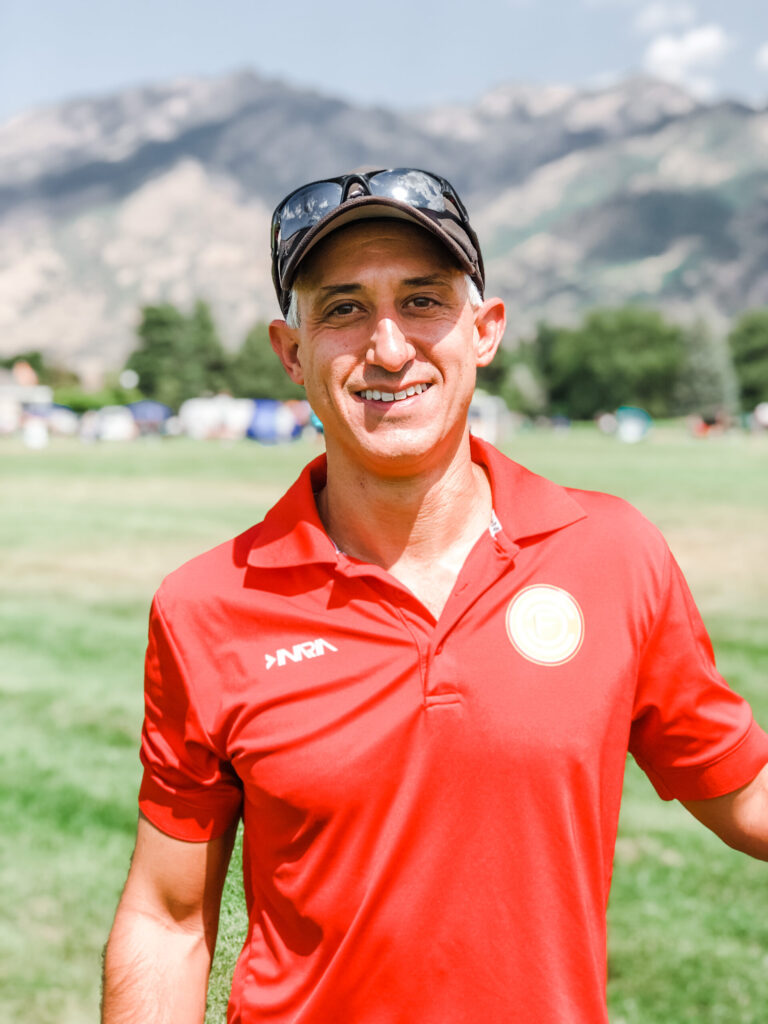 We truly are lucky to have some of the best coaches in Utah coaching for Cottonwood FC. Today we feature Coach Dave Massinople of the Girls 07 Red Team. Here's a little more about Dave in his own words…
Briefly introduce us. How many are in your family? Did you grow up in Utah? My wonderful and adventurous wife, Sharon, and I moved to Utah 12 years ago from our home state of West Virginia for a career opportunity as well as looking for outdoor adventure in the mountain west. I am the proud father of 2 intelligent, beautiful young ladies, 12 and 14, and have had the privilege of head coaching my youngest and assistant coaching my oldest throughout our time at CFC.
How did you get started with coaching soccer? I started as an assistant coach when my girls began their soccer with AYSO rec many years ago. When we moved to CFC 5 years ago, the head coach was looking for an assistant and with my soccer background as a left wing in high school and club player at Virginia Tech I volunteered not knowing that within the year I would be filling the head coach position of the girls 07 metro C team! I have also been lucky enough to learn from other CFC coaches and assistant coach the girls 05 team.
What is your favorite thing about coaching? Coaching has been a wonderful experience over the years and one of my most fulfilling yet challenging engagements in life on so many levels. What I have enjoyed the most is watching the development of not only my own daughters but the other young ladies both on the field and in their personalities. My hope is that they have learned not only how to play soccer well, but also some positive values such as confidence, strong work ethic, and grit to carry with them throughout life.
Any personal soccer philosophies? My coaching philosophy and style has changed over the years as I have grown as a coach and continue daily learning. Coaching the person is important, realizing that soccer is important to these young ladies, but at times in life many other things are more important. I try to instill a passion for the beautiful game of soccer by keeping drills to a minimum and letting them engage in competitive, creative play on some level most of every practice. They enjoy coming to practice much more when I am saying less and they are playing more. Some players develop better making the mistake and fixing it themselves. Others need a little more instruction. I continue to try to improve on this at every practice and game. Watching the premier league, especially teams such as Liverpool, is the easy button on how soccer should be played. I try to watch as many of these games as possible focusing on the off the ball movement of players.
When you aren't coaching soccer what do you do for a living? While these days I spend most evenings and Saturdays on the pitch, during the day (and at least one night a week on call) I am a physician and enjoy taking care of my patients.
Hobbies? My passion is trail running/hiking and winter skiing in the beautiful Wasatch as much as possible. My family enjoys skiing, mountain biking, hiking, paddle boarding, kayaking, camping, and fly fishing when time allows.
Anything else we should know about you? In our original search for a soccer club I noticed many other clubs with a regular rotating schedule of players sometimes with no recognition of one years team to the next. This is why I am so happy to have found CFC in our backyard. We have had a wonderful experience here with keeping the team together as much as possible year to year and I believe this has given my girls a positive soccer experience with less stress, a family atmosphere, strong technical development, some winning, and a lot of fun.